Painting in Erdenheim, Pennsylvania
Searching for a Painter in Erdenheim, Pennsylvania?
With many painting contractors in Erdenheim, Pennsylvania to choose from, choosing the right team for your job can be a difficult task. Here at Henderson Custom Painting, it has been our mission since 1995 to beautify your surroundings at an affordable price, all while maintaining the reliability you need in a contractor. It is our goal to exceed your expectations with any interior painting project, exterior painting project, and everything in between. Henderson Custom Painting is the painting contractor you can trust for superior results!
20% OFF
Interior Painting
expires 06/30/2021
25% OFF
Kitchen Cabinet Refinishing
expires 06/30/2021
---
Call for a FREE Quote
---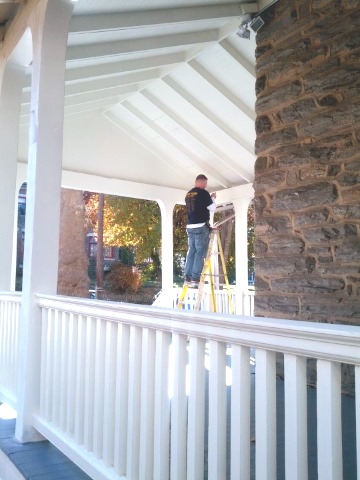 Wide Variety of Painting Services in Erdenheim
The Erdenheim painters at Henderson Custom Painting love sharing our passion for painting with homeowners and business owners alike. We provide many painting services in Erdenheim, including:
residential painting
interior painting
exterior painting
cabinet painting
drywall repair
commercial painting
deck/fence staining or painting
and much more, just call (267) 227-0523 for a free quote!
Great Painting Value Matched with Years of Experience
When it comes to cost-effective top quality painting in Erdenheim, PA, Henderson Custom Painting is a leading choice. We take pride in completing painting jobs within budget, on time and to our customers' highest level of satisfaction. Henderson Custom Painting's painters have several years of experience and training painting homes and businesses in and around Erdenheim, PA and are educated in Erdenheim's construction styles. Henderson Custom Painting technicians are trained in surface preparation and paint application for all types of materials and are skilled at painting walls, trim, ceilings, moldings, windows, eaves, railings, doors, decks, and more. Your home or office is in skilled hands with Henderson Custom Painting's experienced and professional painters.
Henderson Custom Painting has been professionally painting in Erdenheim, PA since 1995. During that time, Henderson Custom Painting has painted hundreds of homes and businesses throughout the area and has built a solid reputation as a trusted Erdenheim painting contractor. Give us a call at (267) 227-0523 for a free quote and discover why we've become a local favorite!
---
Call for FREE Painting Quote
---
WHAT CUSTOMERS ARE SAYING:
5★★★★★ - "From my first contact, I knew that Henderson Painting was a great company. Glen came to my house and we had a plan formulated in minutes. He is very knowledgeable about paint colors and was able to give me recommendations without even looking them up! Glen's painter painted our kitchen and ceiling flawlessly. I was amazed at how great it turned out! Henderson painting is now my go-to for any home painting projects."

Debra M., Painting in Langhorne, PA

2021-03-16

5★★★★★ - "Again -- you and your painters have fulfilled my expectations and made me extremely happy and appreciative. I respect your work ethics, integrity, talents, and honesty. Here's a big thank you and best wishes for continued success with your business."

E.S., Painting in Abington, PA

2021-01-13

5★★★★★ - "I am writing you this note to first thank you for the great service your company provided in the refinishing of my front entryway, it looks fantastic and we could not be more pleased. Your man who did the work was neat and clean -- even with all the sanding. At the end of each day, the area was spotless. It's nice I found a painting company that still does the job the right way, and look forward to the next project. Henderson Custom Painting does really great work, Thank you"

H.C. Voellm, Painting in Huntingdon Valley, PA

2020-11-18

5★★★★★ - "Henderson painting is the best professional painting company I have ever worked with. I spoke with several different companies about resurfacing the cabinetry in my newly purchased home. The Cabinets were in top condition and were well maintained, they just needed a new color to enhance the beauty. The other companies proceeded to advise of additional work that they projected as needing to be done before they actually looked at the cabinets. It seemed that they had a set number they wanted to charge and so they laid the groundwork to fluff up the charges. I had started to give up on having a professional company do the work as the price was ridiculously high. That's when I came across Henderson's Painting company. The owner was very honest and his pricing was fair. The job the painter did was impeccable. He really put his time and focus on getting the job done right. He produced quality results. The cabinets came out perfect. If you are looking for a company that is reasonable, honest, friendly, and provides great quality work: then you've come to the right place."

S. Williams, Painting in Philadelphia, PA

2020-11-16

5★★★★★ - "Always a pleasure working with them. Top-notch in terms of communication and quality of work. Will call them again for any of our painting needs and would certainly recommend to anyone."

C. Gonzalez, Painting in Plymouth Meeting, PA

2020-11-11

5★★★★★ - "I spent months looking for painters until I found Henderson Painting. I loved the work on their website and my results couldn't have been better. The owner was always available, his staff knew what they were doing and I finally solved my painting problems."

T.B., Painting in Doylestown, PA

2020-09-21

5★★★★★ - "I had my kitchen cabinets painted by Henderson Custom Painting. It turned out to be outstanding. The painter was neat, on time, skilled with outstanding attention to detail. If you are considering cabinet painting, I fully recommend Glen Henderson's painting."

Anonymous in Holland, PA

2019-11-25

5★★★★★ - "From preparation to completion on several interior and exterior projects, Henderson Painting provided expert professional service and careful attention to detail using superior products for a beautiful and durable finish. When a deadline was essential in coordination with another contractor for the installation of gutters and downspouts, extra help was immediately provided to prep and paint outdoor surfaces to meet the demand. At the end of each workday, the worksite was meticulously cleaned so that the homeowners continued to live in workfree comfort. Friendly, professional service provided clients with a beautiful new home. Without reservation, we would recommend Henderson Painting for all surface preparation and painting needs!"

Homeowner, Painting in Huntingdon Valley, PA

2019-09-16

5★★★★★ - "In an attempt to update our kitchen we engaged Henderson Custom Painting to paint our wooden cabinets. We couldn't be more pleased with the results. The gentleman who performed the work did an outstanding job which included extreme attention to detail. Our newly painted cabinets give our kitchen a totally professional new look and we would not hesitate to recommend Henderson Custom Painting."

T.B., Painting in Langhorne, PA

2019-08-29

5★★★★★ - "Thank you to all who made our house more beautiful. The new paint job looks crisp and clean, and the porch color is gorgeous! You all worked diligently to get the job done, and we appreciate the hard work and skill."

K.H., Painting in Philadelphia, PA

2019-05-15

5★★★★★ - "I just wanted to let you know your crew and work is excellent! Very professional and great to work with. Everything turned out great. Thanks!"

J.D., Painting in Huntingdon Valley, PA

2018-11-20

5★★★★★ - "When I began my search for an experienced painter who would be able to sand and re-paint my kitchen cabinets, I reached out to no less than 6 supposed reputable painters. Glen Henderson was the only one who responded, requested photos of my cabinets and promptly followed up with an estimate for the job. That made an impression on me
.
Henderson listened to my ideas and made suggestions and answered the many questions that I had.
The painter stayed in contact with me during the process and let me know when and what time he was arriving at my home. He cleaned up afterward and was very sincere, trustworthy and respectful. My dogs loved him as well. A couple of my doors needed carpentry work and another worker had to rebuild one door. Another talented and detailed worker! My experience working with Henderson Painting will always stand out as a positive, ethical and respectful one. Why I had not heard of this amazing company is hard to believe! Thank you all and you will be the first call I make for my next paint involved project."

E.S., Painting in Abington, PA

2018-08-24

5★★★★★ - "My experience with Henderson Painting was a great one. Glen was easy to work with and his prices were very reasonable. The crew was nothing but professional. They showed up on time and were very clean and efficient. I would recommend Henderson to anyone that is looking for a quality paint job or cabinet refinishing."

Homeowner, Painting in Yardley, PA

2018-06-07

5★★★★★ - "From my first phone call, I knew that Henderson Custom Painting was the company that I wanted to paint my kitchen cabinets. Glen was so helpful and promptly sent me emails explaining the entire process step by step, offering color choices and other options for my kitchen renovation. When I met Sean, the guy who was going to paint the cabinets, I knew I was in good hands. He was very courteous and personable, and very knowledgeable. His work is outstanding and I could not be happier! My kitchen looks amazing - fresh and bright! What a transformation!
Thank you Glen and Sean for your expertise and professionalism."

Michele M., Painting in Huntingdon Valley, PA

5★★★★★ - "Very professional; very courteous; will gladly use them again in the future."

Joe D. in New Hope, PA

5★★★★★ - "Positive experience from quote to job's end. Always available to answer questions and respond to concerns. Works with you until the job is finished and you are happy."

T. Bogler, Painting in Ambler, PA

5★★★★★ - "I'd like to thank you for another job well done. It's been a pleasure working with you. Two things come to mind that keep me coming back again, and again. One is your honest approach to the job needed. I find comfort in your honesty in telling me what needs to be done, what doesn't, and what can wait. Secondly, is the professional manner in which your workers conduct themselves? My wife works from home and she paid them the compliment that they were informative, attentive, but unobtrusive. I'm guessing we've worked together on four or five projects over the years. I'm happy to be one of your returning clients, and grateful I have you and your team to call on."

Matthew Farley, Painting in Lower Gwynedd, PA

5★★★★★ - "The fireplace looks amazing! We are both extremely impressed with the results...even better than we had expected. I really don't think pictures can do justice to how well the fireplace turned out. Brad wanted me to let you know that we had window cleaners here and our fireplace insert installed on Friday, which was a total of 4 guys. He said they all commented how much they liked our stone fireplace. He explained to them that it was paint and it had been painted white and we just had it repainted to look like the original stone...and none of them believed him! We are truly delighted with the results!"

K. Reigle in Jenkintown, PA

2014-12-23

5★★★★★ - "Hi Glen! Just wanted to thank you guys again. Jason did a really great job and was so nice to work with!! As I told him, I'll definitely refer you guys to anyone looking for a great local painter. I *almost* wish I had more work to do around the house so we could hire Jason back :) Thanks again for all your help and a job well done."

Meghan in Philadelphia, PA

2014-02-20

5★★★★★ - "Thank you so much for the great job you and your team did for us. Although we didn't get everything done before Thanksgiving, the most glaring areas were repaired & repainted & looked great. Everyone you sent to our home was so nice to work with & very accomodating to work around our Thanksgiving schedule. We couldn't be more pleased. We look forward to working with you all again in the future and would be happy to recommend your services to future customers. Happy Holidays to you & your family & crew!"

E. Moorhead in Lower Gwynnedd, PA

2013-12-17

5★★★★★ - "Excellent service, outstanding quality, very trustworthy. They show up when they say they will. Very dependable. I assure the buyer that they will be satisfied. I can't say enough to express my satisfaction."

Eugene M, Painting in Southampton, PA

2012-06-27

5★★★★★ - "I trusted his associate LaLa everyday by himself.  I was thrilled to come home to a clean environment every day!  The work ethic of this company is outstanding.  I would use them again!"

Lisa W., Painting in Southampton, PA

2012-06-27

5★★★★★ - "Not only does the painting look terrific, but you were all so courteous, meticulous, punctual and professional. I wish all contractors ran their business the way you do!"

Anonymous in Ambler, PA

2012-05-15

5★★★★★ - "The team you sent was just wonderful! They were respectful and neat and the perfect professionals. It was a pleasure to have your company in our house."

Anonymous in Philadelphia, PA

2012-05-15

5★★★★★ - "You can be proud of your people and their work. I would unhesitantly recommend you and your crew to anyone anywhere."

Anonymous in Bryn Athyn, PA

2012-05-15

5★★★★★ - "Principled leadership was evident throughout. Details and extras were finished quickly and with good humor. The guys were polite, personable and interesting to talk with."

Anonymous in Wyncote, PA

2012-05-15

5★★★★★ - "It has been a real pleasure working with you and your employees. You truly are very professional and it is so appreciated. I know you will be doing more work for us in the future. Thanks again."

Anonymous in Bala Cynwyd, PA

2012-05-15

5★★★★★ - "I have had many contractors in my home, but you surpass all of them. My painter was pleasant, courteous, friendly and his painting abilities are remarkable! It was a joy getting to know him."

Anonymous in Glenside, PA

2012-05-15

5★★★★★ - "Henderson Custom Painting Associates are a great group of men who were friendly, yet professional. They showed a lot of enthusiasm in their work and excelled in quality craftsmanship."

Anonymous in Pipersville, PA

2012-05-15

5★★★★★ - "I met with 10 painters before I chose to go with Henderson Painting. The team is great and have been very professional."

Anonymous in Lansdale, PA

2012-05-15

5★★★★★ - "We were more than pleased with the work. They showed up on time, did whatever we requested and were always polite and cooperative. They cleaned up each day. We would strongly recommend them for any painting job."

Anonymous in Conshohocken, PA

2012-05-15

5★★★★★ - "It's perfect. Most importantly, the work was done with a level of professionalism form quote to clean-up not often found in the contracting trades. I would recommend to anyone."

Anonymous in Doylestown, PA

2012-05-15

5★★★★★ - "I wouldn't think of using any other painting service. Quality of work and professionalism is what we love about Henderson Painting."

Anonymous in Jenkintown, PA

2012-05-15

5★★★★★ - "We are very pleased with the work done, with the crew, with communication with the company and with the time in which the job was completed."

Anonymous in Bryn Athyn, PA

2012-05-15

5★★★★★ - "I just wanted to say how pleased we are! Our manager was great - each day they arrived on time and came back in a timely manner to address our concerns. The work is great and your guys really cared. Thanks for a wonderful experience. We will call to have more work done soon!"

Anonymous in Wyndmoor, PA

2012-05-15

5★★★★★ - "Excellent and quality work. Team works very hard and uses time wisely - very industrious team. They cooperate and are willing to make or take corrective measures."

Anonymous in Southampton, PA

2012-05-15

5★★★★★ - "Thank you for having the guys come and finish the painting today. They did everything we talked about - all with a smile. I appreciate the work the guys did and am very happy with how it all looks."

Anonymous in Doylestown, PA

2012-05-15

5★★★★★ - "Every aspect of the crew and the job was superb. They were very easy to work with and took pride in doing their best. Thank you!"

Anonymous in Wenonah, NJ

2012-05-15

5★★★★★ - "Henderson Custom Painting was absolutely fantastic. This was my 4th time using their services. Previously, Henderson Custom Painting painted the interior of my home twice and also completed one exterior window project. The most recent project was for my mother's home. The project team was professional, timely, detail-oriented, and exceeded expectations. The project leader was outstanding and even came in on his day off to move the project to completion. I would highly recommend Henderson Custom Painting and will kindly serve as a referral"

Homeowner, House Painting in Huntingdon Valley, PA

2021-05-12

5★★★★★ - "Our experience with Henderson Painting is such a positive one. From the quote to the work that was completed, we were so impressed with how professional Glen and his team are. They did an amazing job painting and staining our custom mudroom built-ins. We are so pleased and look forward to working together on future house projects."

M&M Schuber, Interior Painting in Lansdale, PA

2021-04-21

5★★★★★ - "Your painter was a gift.
He did a beautiful job: thorough, careful, and clean. He was creative, fixing and improving things that I hadn't even realized could be fixed. He didn't begrudge me popping in at unpredictable moments to unearth things I'd buried in piles under tarps in the kitchen, or to revel in the improvement underway, or to ask him to show me how to do a particular thing like caulk. And just for the record, he's an interesting and likable person. All in all, this project turned out to be more of a thrill for me than you can imagine.

I'd like to have him come back for the final touches and for the other projects around the house. I'm also considering painting another room or two."

L.H., Interior Painting in Wynnewood, PA

2021-04-14

5★★★★★ - "Wow! The new paint is absolutely beautiful. I'm kicking myself for waiting this long. You went above and beyond my expectations. Thank you!!
Thanks for hanging the last shudder and clearing the painting tape on the downspout today."

E.B., Exterior Painting in Bryn Athyn, PA

2021-04-14

5★★★★★ - "I am so glad we found Henderson Painting. We had researched cabinet painters for a bit to find the right fit and Glen was more than helpful. He helped with color choice (even though we went with white) and was even able to give us a quote with pictures which was very much appreciated during the time of a pandemic. The painter was kind, tidy and quiet and answered ALL our five-year-old's questions. Everything came out perfect and we couldn't be happier.

Highly recommend the Henderson Painting team!"

Karen S. in Huntingdon Valley, PA

2021-03-30

5★★★★★ - "We recently had Henderson Custom Painting do some work for us. We had a major project in our family room that required sanding down an old popcorn ceiling, removing old peeling wallpaper and stained molding. Glen came out and spent time talking with us about the best way to approach the work. He recommended taking down all of the stained moldings and painting the baseboards, chair rail, and an old stained Anderson Frenchwood door white. We chose to paint an accent wall in a shade of green and the other walls in a rich cream color. Glen recommended the perfect shade of green and although we looked at lots of other colors we ended up with his choice and we are really happy with it. What a difference the fresh coats of paint and white woodwork and sliding door have made. Our room has been beautifully refreshed and we are enjoying it very much. We were impressed with Glen immediately and the young man who did the work was amazing. He took the time to educate us on color and painting techniques that were very helpful He was very patient with us as he went along especially when he painted the first coat of paint I had selected in our hall bath and I really did not like it. I called Glen in a panic and he assured me they could change it. His painter helped me select a new color and kindly repainted the entire bathroom and it is just what I was envisioning. I am so glad I did not decide to live with my original color selection. His painter's attention to detail was amazing and he took great care to clean up each day and took extra time to go back over a couple of items that I pointed out to make sure we were completely satisfied. We are very pleased with the work that was done and would highly recommend Glen to anyone who desires high-quality workmanship. We look forward to having him back to do more work in the future."

Elieen P., Interior Painting in Warminster, PA

2020-12-15

5★★★★★ - "Our house is over one hundred years old and has cedar shake siding. We have lived here since 1973 and have put on numerous additions staying with the cedar. We asked Glen to take a look at painting both the siding and the trim work. He came over promptly and spent some time going over the various areas to determine what needed painting and what was ok. We discussed various options and he had very good suggestions. He gave us an estimate quickly and we agreed on the work.
His crew ended up painting everything from the 100-year-old shakes to newly installed shakes. They were very careful not to disturb our plant life and cleaned up after themselves. They were here painting on the porch when a maple tree fell against the house. Glen graciously offered to return when the damage was cleared and repaired to complete the painting.
We are very satisfied with the quality of the work and the knowledge that Glen had regarding our painting needs. We highly recommend his services
Rated: *****"

Sig S., House Painting in Bryn Athyn, PA

2020-09-10

5★★★★★ - "Glenn was very responsive and great to work with. Needed old wallpaper border took down and new spackling on areas where drywall was ripped off from my daughter's wall stickers. We painted the room ourselves but prep work was done by Henderson. Wonderful job!! Very pleased with this company!!"

Tina P., Wallpaper Removal in Huntingdon Valley, PA

2020-07-15

5★★★★★ - "We are very happy with the service we received from Henderson Custom Painting. Glenn is very friendly, knowledgeable, and responsive, and Brian did a great job covering the dark beige color we had in our upstairs hallway (even though the color we chose proved to be tricky to achieve those results with). We would recommend this company if you want a thorough job and beautiful results. We definitely hope to use them again in the future!"

Lisa H., Interior Painting in Huntingdon Valley, PA

2020-07-15

5★★★★★ - "I highly recommend Glen and his team as they do fantastic work! They have not only painted my entire home but have expertly used textures and paint to create unique interior doors, accent walls, transformed a fireplace mantle, and infused life into various architectural pieces. Henderson Painting's level of artistry and professionalism is unmatched - if you want to transform a space, you could not ask for better!"

Kristin J., House Painting in Huntingdon Valley, PA

2020-07-15

5★★★★★ - "Glen and his team have done two painting projects in my home, and they are my go-to painters. His team arrives right on time, does a great job and makes sure I'm satisfied with the work, and cleans everything up. They are professional and respectful. I definitely recommend Henderson Custom Painting and I will not hesitate to hire them the next time I have a home project"

K.Y., House Painting in Willow Grove, PA

2020-06-12

5★★★★★ - "The refinished cabinets and hardware installation look awesome! Excellent work! So happy with the finish! The cabinets are beautiful! High-end kitchen results were definitely achieved"

C.C., Light Carpentry in Hatfield, PA

2019-12-05

5★★★★★ - "I want to tell you what an excellent job you did! Our house looks amazing. The colors are beautiful. You always cleaned up before leaving and left our house as clean as you found it. Thank you very much! I can't wait until we need painting done again. You can give out my cell phone number if future customers want to talk to me. They would be a fool to use anyone else!"

E.C., House Painting in Huntingdon Valley, PA

2019-09-11

5★★★★★ - "The work was very well done. When carpentry issues were discovered, they kept me informed and clearly explained the options for repair. After completion, minor fixes were done promptly. All the workers were polite and respectful of my property and cleaned up thoroughly."

Mary in Philadelphia, PA

2019-07-16

5★★★★★ - "The cabinets turned out very nice, I am very pleased. It really refreshed the look of the kitchen and made it much brighter for a reasonable cost vs refacing or other alternatives. I am really glad I went with the painting approach. I have attached a before and after picture down below."

M.K., Cabinet Painting in Perkasie, PA

2019-05-15

5★★★★★ - "Just wanted to tell you how happy I am (and more importantly how happy my wife is) with the cabinet job. You really do nice work we are very please with how it makes our kitchen look now. He was able to true up how some of the cabinet doors were hanging. We also are really pleased with how the hinges turned out. Great job to all of you. We couldn't be happier with the project. We also appreciate how friendly and professional you are. We will recommend you to any of our neighbors that are considering paint projects and we will not hesitate to use you again with any projects that are above our novice skill level."

C.M., Cabinet Painting in Doylestown, PA

2019-04-29

5★★★★★ - "We had a very positive experience with Henderson Custom Painting. Glen was very responsive to my emails and communication throughout the process was excellent! For a very reasonable cost, my cabinet doors now look brand new and absolutely fantastic! The quality of the work is exceptional and I highly recommend this company!!"

A.R., Cabinet Painting in Philadelphia, PA

2019-04-02

5★★★★★ - "I have ONLY used Henderson Custom Painting for all my interior painting.
Glen and his team have never disappointed me and I have pretty high standards.
He is professional, considerate of your home, and never makes you feel small or silly when questioning him about anything related to his business. He employs the finest of painters who will respect your home and its contents.
They clean up every day before they leave and I challenge you to find contractors who have as much respect for your property as you do!!
His pricing is fair and all-inclusive. There are no hidden charges or fees. The price you contract with is the price you pay. Do not hesitate to make Glen YOUR painter!!! You will not be sorry!!"

L.W., Interior Painting in Holland, PA

2019-02-25

5★★★★★ - "Glen along with his excellent team had a huge task of repairs from water damage, drywall and insulation repair, painting an extensive part of the home, and recruiting his talented cabinet painter for the kitchen. I loved working with Glen and found him to be extremely professional, he would call back immediately and consult without time constraints about the color choices, he considered other design elements within the job scope, he was always kind and efficient. I would call back Henderson Painting in a heartbeat. they are meticulous, hardworking and they do not deviate from the plan."

kathy w in New Hope, PA

2019-01-24

5★★★★★ - "We highly recommend Henderson painting company without reservation. They are skilled, professional and pay attention to the smallest detail. They handled our furniture with the utmost care and always cleaned the work area before leaving for the day. The crew was courteous, respectful and nothing we asked was too much trouble for them. Glen made a wonderful design recommendation for painting the area around our fireplace and it looks great. He has an artistic eye for detail. A great job by professional painters. You will not regret using Henderson Custom Painting."

E.T., Interior Painting in Philadelphia, PA

2018-12-13

5★★★★★ - "We had a very positive experience with Henderson Custom Painting. Glen was very responsive to my initial email and in communication throughout the process. I was apprehensive about painting our existing cabinets to match the new ones, but the color and finish were spot on! We also decided to have our dining room and living room ceiling painted. They were courteous and professional the whole time. He left the space clean and organized each day. The quality of his work is top notch!! We will definitely recommend them to family and friends!"

S.B., Cabinet Painting in Southampton, PA

2018-12-06

5★★★★★ - "We have a large house with wood siding. There was also some carpentry that was needed due to deterioration. Glen's price was reasonable including the carpentry work. The work kept getting interrupted because of this summer's crazy rain but Glen's crew kept at it whenever possible. An emergency roof repair added to the problems since we found water damage in a segment of wall. Glen's crew chief was amazing. His work was great. The result was a beautiful paint job and a house that looks like new."

C.M., Light Carpentry in Elkins Park, PA

2018-09-10

5★★★★★ - "We just wanted to let you know how happy we are with the work done on our house, garage and shed. It all looks great. Everyone was professional, punctual, diligent, courteous, pleasant, and responsive. They have an excellent eye for detail and saw to it that everything looked great, even around the garage doors where the wood was in bad shape. They did an especially amazing job with the one side wall that had all the peeling paint. When they were done, the scraped area blended in perfectly with the rest of the stucco. The same can be said about the gable ends. Some were in pretty bad shape but he took the time to make sure they came out right. We are looking forward to getting to work on the inside later this summer."

P&S S, Exterior Painting in Philadelphia, PA

2018-05-22

5★★★★★ - "Your guys did a SUPER job! I truly appreciate the work they did. If I had tried to accomplish what they did this week I would have failed miserably. With a house full of small problems, they were able to correct issues with the ceiling and walls and make them all look new again. The color was perfect and so was the paint. Your guys were truly talented professionals."

T. E. in Huntingdon Valley, PA

2018-04-26

5★★★★★ - "Henderson Custom Painting was absolutely fantastic in their completion of my recent painting project. I first used Henderson Custom Painting seven years ago and reached out recently for an interior painting refresh of my home. The Henderson team was once again knowledgeable, offered suggestions, timely, responsive and completed the project on time. I would not hesitate to recommend Henderson to others looking for a painting expert in the area."

G.B., Interior Painting in Elkins Park, PA

2018-04-10

5★★★★★ - "I can't say enough good things about my recent experiences with Henderson Painting. My first experience was a complete kitchen cabinet face-lift. Glen's painter was personable and professional. My cabinets are perfect and I couldn't be happier. My second hire of them was to fill many drywall holes, completely prep and paint trim and paint my living room and kitchen walls and again, professional and perfect. Their workmanship is excellent and their workers are a pleasure to work with. Everything was done in a timely manner and they cleaned up everything as if they'd never been there. I will definitely call them again to do all my future home projects. I highly recommended Henderson Painting!"

S. Stone, Cabinet Painting in Yardley, PA

5★★★★★ - "We recently hired Henderson Painting to address many of our house painting needs(front, back, and siding of house, patio, retaining walls..) and we are extremely happy we did. Henderson completed the job in a timely manner, and worked with the upmost professionalism. Staff showed up on time every day while giving 100% towards that days job. We received quotes from four different companies, and while Henderson was not the cheapest or most expensive, it is the company we felt most comfortable with. Our intuition was correct; do not hesitate to hire Henderson for your needs."

Feit Family, House Painting in Meadowbrook, PA

5★★★★★ - "Glen and his crew were professionals. They came when scheduled, did the jobs to perfection, and were amazingly neat (absolutely no mess!). I am 110% satisfied with the repairs to my house and deck and with the quality of the workmanship. The price was fair, too. I will use them again and have already recommended them to my neighbor."

W.G., Deck Staining in Blue Bell, PA

5★★★★★ - "I am a home-improvement contractor but I don't do painting. I mentioned that I needed a painter at a supply house and it was suggested to me that I call Glenn Henderson Painting. I found Glenn to be very professional. He came out personally to look at the work I needed done and gave me an estimate the next day he said he would be there at 10 o'clock and he was there exactly at 10 o'clock. He explained everything to me and gave me his recommendation as to the products and the process in which it would be done. When his men came they also were polite professional and punctual. They far exceeded my expectations and I will recommend them to my customers and friends and family. It was a pleasure to deal with such a professional company."

Patrick A., Commercial Painting in Warminster, PA

5★★★★★ - "As usual, your team did an outstanding job. They were both extremely hard workers and very efficient. They were very respectful of the area and were very thorough in their work. The paint job turned out great!"

J McCormick, Garage Floor Painting in Ambler, PA

2016-11-29

5★★★★★ - "This is to highly recommend Glen Henderson and his very competent team of Henderson Custom Painting. I have been a homeowner for the last 30 years and have hired many contractors to help support the needs of my home. My experience with contractors has not always been positive, as I have found that many contractors are unreliable – they stand you up for appointments or they have you sit all down waiting for them to come only to get a phone call at the end of the day after you've used a valuable vacation day off work, to find out they can't come until the next day! Glen Henderson and his team are the most reliable, competent, hardworking contractors you can find. I have used them to paint my house, both inside and out; also, for plastering to our exterior in prep for painting. They have also done other restoration work to my home. Each time they arrived timely, did a beautiful job with highly skilled workmanship. The Henderson Custom Painting team are courteous, trusting, and professional. I am not one to let folks work in my home unattended, but I have full trust in these folks and would recommend them for any type job. And be assured, Glen will not take on any type of work – if he is not experienced in the work at hand, he will put you in touch with the right competent, experienced tradesman. In addition to their performing up to high standards, the pricing is always reasonable. Glen makes sure that you are fully satisfied with the workmanship before requesting a final payment. Give this fine company a try – you will never look back!!!"

Sylvia Kaufmann in Huntingdon Valley, PA

2015-09-23

5★★★★★ - "Paul finished up today. I gave him your check for the balance actually yesterday. I couldn't be happier with the job. I love the color of the basement, and the overall look of the foyer and ceiling, but I am most impressed with the repair work in the upstair's bedrooms! Very impressive! Hopefully I will be able to recommend you to my friends here in Doylestown."

Gay in Doylestown, PA

2014-02-20

5★★★★★ - "I would highly recommend Glen and his employees. I recently renovated an apartment and the previous tenant was a heavy smoker. The nicotine damage was the worst I have ever seen. I brought in (4) different painters that I had picked  from Service Magic and by far Glen was the most knowledgeable one. He recommended a primer that I and others never heard of. The apartment needed (3) coats of paint. I wanted to bring the cost down by doing some of the work so Glen worked with me on the price and was willing to help in every possible way.His number and contact information are permanent in my book."

Heidi R, Interior Painting in Warminster, PA

2012-06-27

5★★★★★ - "Glen is extremely personable, organized, knowledgeable, and down to earth.  The project team was very efficient, neat and courteous.  Henderson Custom Painting is definitely a company I would recommend."

Sandy L., Interior Painting in Jenkintown, PA

2012-06-27

5★★★★★ - "We had a very challenging job for Glen and his crew.  Our living room/dining room combo had been faux painted by the previous owner, covering even the trim and doors.  In addition to having visible wallpaper seams, the walls had many other imperfections, including settlement cracks and numerous nail pops.  HCP was able to make the seams and nail pops much less visible, even though we went from the faux finish to a flat paint. Glen paid a lot of attention to detail during his estimate, & I feel that carried through on the rest of the job.  Excellent work by men of good character.  Definitely recommend them & will use them again!"

Janel F., Interior Painting in Ambler, PA

2012-06-27

5★★★★★ - "I loved working with Henderson Painting! They are A-1. Courteous and on time! They offered great suggestions and really have an eye for color. They painted my 105 year old plaster-walled dining/living room. It's GORGEOUS! They went beyond and above what any contractor would have done to make sure the paint was dry before we moved in. Don't look anywhere else! They are fantastic and easy to deal with."

Anonymous in Creamery, PA

2012-05-15

5★★★★★ - "This crew worked beyond the expected. They seemed to find every scratch and dent that needed repair prior to painting."

Anonymous in Huntingdon Valley, PA

2012-05-15

5★★★★★ - "We are absolutely thrilled with your transformation of our home. Your color consultation and decorating ideas really made our home spectacular. We cannot say enough about the painters - their work is exceptional, their professionalism and friendly manner is incredible."

Anonymous in Fountainville, PA

2012-05-15

5★★★★★ - "Your team members were extremely courteous and always respectful to our schedule. We would definitely recommend this team and your company to anyone. We love the job."

Anonymous in Merion, PA

2012-05-15
---
Call for FREE Painting Quote
---